About World Avenues Malaysia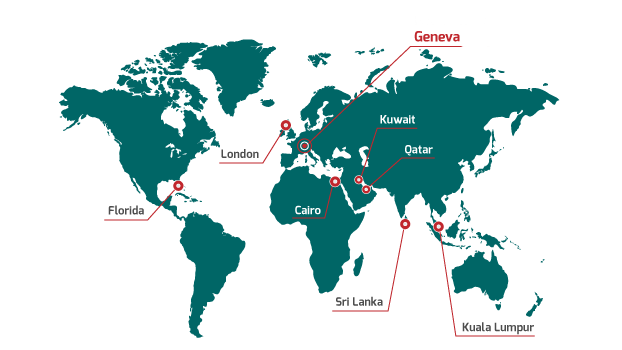 World Avenues was established in the United Kingdom in 1996.
Our growth was further strengthened by the opening of our office in Geneva, Switzerland in 2003.
various WA branches were created around the world:
Cairo (Egypt)
Kuala-Lumpur (Malaysia)
Colombo (Sri-Lanka)
Doha (Qatar)
Kuwait City (Kuwait)
London (United Kingdom)
Florida (United States of America)
The main goal of World Avenues Malaysia is to provide qualified and personal service to each client.
Our professional and multilingual staff is always ready to respond efficiently, with the best appropriate solutions required to your client's specific demands.
WHAT WE CAN DO?
.World Avenues provides a wide range of global travel management services that you can choose from. These include:
Online Hotel Reservation
Airline Ticketing
Inbound and Outbound Tours
Meetings and Incentive Planning
Tailor-made Tours, Car Rental
Ground Transportation
Student Placement Programme and more
We know it takes a highly efficient and informed team to truly manage a travel program from begining to end and we are here to ensure the success of your holiday.
Hotel Reservation
Our long list of hotel accommodation range from three to five stars hotels on the Malaysian Peninsula, Borneo and Singapore. These hotels are among the best hotels in their categories and we recommend them to you according to the quality service together with the comfort, value-for-money accommodation provided.
Sightseeing Tours
Our Day Tour and Overland Tour packages like the Malaysia on Wheels offer you an array of cities to choose from. You can take a tour from the heart of the city, climb mountains, stroll on beaches or even take the jungle trail with the Tours we have in store for you.
Special Interest Tours
Whether if you like taking a good walk through Malaysia's most popular tropical rainforest for the Taman Negara Jungle Experience or take up the chaallenge on Mount Kinabalu or simply be a part of the close-knit community of the Sarawak Iban Longhouse, World Avenues is the travel advisor you are looking for. Just leave your company trip planning to us and travel with peace of mind. Meeting & Incentive Planning Meeting. Regardless the size or capacity of your meeting, workshop, seminar or conference, you can rest assure that World Avenues will complete your meeting management into detail from travel arrangements and even speaker support. No quantity is too large for our quality services.
Incentive Planning.
We provide comprehensive services in planning, organizing and scheduling the itinerary for your company business trips, seminar and conventions. Our teams of travel professionals are capable of planning any of your company's annual/incentive trips within your specified budget. They will ensure all details are taken care of and that you will have the most memorable trip.
Meet and Assist Services
You should not feel lost when you travel. With our Meet and Greet Services for leisure tourists, meeting groups and even VIPs, you can rest assure you will get the attention you deserve as soon as you arrive in the airport. Our team of airport representatives are professionals and will be there to guide you along the way, with the best courtesy.
Limousine Transfer
Choose form our selection of Japanese Car to the luxurious Mercedes Benz for your transfers. The transportation can be charged hourly, daily or long term, to ensure you receive the best possible rates and services.
Car Hire
.World Avenues Malaysia works closely with Car Rental companies for your car transportation needs.
Online booking system
.World Avenues Malaysia have a user friendly Travel Management System that provides total solution for all kinds of travels. This technology enables the company to be web based, thus making it readily available and very mobile, as we can be accessed anywhere in the world as long as there is Internet connectivity.
Foreign Student Placement Programme
Leaving home for another country to fulfill your dreams is always a big step. You would also need to adapt to a new environment, culture and people.
World Avenues welcomes International students to experience the education advantages in Malaysia. Our Foreign Student Placement Programme have carved a reputation for placing students into quality tertiary education institutions that ensure graduates are equipped with practical and industry-relevant skills.
.World Avenues will guide you along the way to prepare yourself and provide you with the relevant documents required to facilitate your entry into Malaysia and to furnish you with information about this country. SELAMAT DATANG KE MALAYSIA, this is our national language – Bahasa Malaysia for WELCOME TO MALAYSIA!
For additional information or assistance, please call +603 2161 1566 or email us at sales@worldavenues.com.my