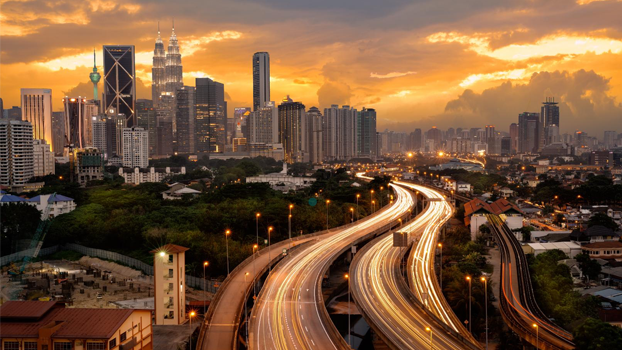 Over 50 years of independence, Malaysia has retained much of its old charm despite undergoing tremendous developments in its landscape and people. Malaysia is still one of the the most culturally diverse nations in the world, making it a country with endless cultural idiosyncrasies and gastronomical delicacies to whet every taste bud.
Malaysia is divided into 14 States, each with its unique offering whether culture, architecture, heritage, nature, food, lifestyle and much more. You can never get bored in the vibrantcity of Kuala Lumpur. The city is paradise for those who seek a balance of both historical and natural trail and the hip happening nightlife of the Golden Triangle. not to mention, a shopping haven if you need some retail therapy.
Other interesting places to go to are Malacca, the historical city; Penang, our Pearl of the Orient; Sabah, Land of the Hornbills; Kedah, the country's rice bowl, Pahang, for your highland adventure, Sarawak, with the deep caves of Mulu and so manymore.
Malaysians are a friendly lot, ever willing to lend you some guidance, should you ask for any. In fact, they will be too glad to point the best spots to visit and most importantly, good eats. You do not have to worry about language barriers as Malaysians are conversant in English although their  national language is Bahasa Malaysia which is the Malay Language.  It would bring a smile to  their face if you could pick up simple greetings in the local language like "Apa khabar?" (How do you do?) and "Terima kasih" (thank you).
Do not be surprised if you  encounter any of the festivals being celebrated in Malaysia. It is usually done with much enthusiasm. Regardless of race or religion, Malaysians come together to celebrate any joyous occasion. Larger festivals such as Hari Raya Puasa, Chinese New Year, Deepavali and Christmas are noisy affairs with much fanfare, cheer and participation from everyone. Streets and homes are decorated, houses are opened to visitors, seasonal food is in abundance and plenty of goodwill goes around. You can feel the festivities in the air!
Come visit Malaysia and the hospitality of its people. It's truly a place for everyone to be.